Sometimes It's What the Policy Doesn't Say That Counts!
Our expert panel discusses the ins-and-outs of insurance policies, the importance of understanding what your policy covers, as well as what it does not. In this episode, our panelists will discuss how those with an insurable interest in a property can protect themselves from issues such as inadequate reimbursement should a disaster occur.
Key Takeaways:
[:27] After a disaster occurs such as a fire, flood, or severe windstorm damages a property, what are some common mistakes an insured or policyholder makes that results in the inability to provide 'proof of loss' to the insurance company? [3:20] Is the 'inability to provide proof of loss' a common theme in property damage losses? [5:12] What are the ways in which a policyholder can prevent such roadblocks?
View All
[8:00] What does the concept of 'insurable interest' mean in relation to a property insurance policy? [9:38] If a person does not have to be the property's owner in order to have insurable interest, what are some examples of parties that would have an insurable interest in a property? [11:49] A party who has an insurable interest in a property may not be involved in the day-to-day operations, or even be on-site. What types of conflicts can this result in when it comes to insurance policy definitions, interpretations, changes, and the like? [13:28] What can these other parties do to protect their stake in the property, aka their 'insurable interest'? [17:36] Speaking of 'Broadening the Named Insured,' what are some challenges the agent, broker, or policyholder may face, when undertaking this task? [21:11] What are some challenges the agent, broker, or policyholder may expect when 'Broadening the Property Definition,' if they have to go that route? [22:09] Suffice it to say that these additions to a property insurance policy can play an important role in helping one avoid a large predicament such as inadequate reimbursement; what is the overall benefit of having them in place?
Close
Panelists:
James R. Mahurin, Risk Management Consultant and member of the Society of Risk Management Consultants

Self-employed Risk Management and Insurance consultant providing fee-for-service assistance to the insurance buyer.  Perform risk management studies, independent evaluations of commercial insurance programs, conduct competitive proposal/bid process and self-insurance feasibility studies.  Work experience includes projects in approximately twenty states.  Litigation support and expert witness services to law firms began following the Daubert decision in 1993. This work split is approximately fifty/fifty between plaintiff and defense.  Litigation involvement includes agent custom and practice, flood (including both NFIP and private insurance), property, crime, liability, employee benefits, property leases, Broad Form Property Damage (BFPD), etc.  The BFPD includes both course of construction and construction defects.
Tim Larsen, Executive Adjuster – The Greenspan Co./Adjusters International

As an Executive General Adjuster, Tim handles both residential and commercial cases with special expertise in business interruption and course of construction claims. Through his previous work with insurance companies, Tim is fluent in "insurance speak" – the fine language of policies and procedures that govern the claims negotiation process. With his background in law, Tim brings first-rate negotiation skills and a unique perspective to the service of his clients. He leverages a keen knowledge of what insurance companies need to evaluate a loss to communicate issues effectively and efficiently across the table, helping his clients reach a fair and expeditious result that paves the way for their financial recovery.
C. Todd Thomas, Executive Director of Consulting Services and member of the Society of Risk Management Consultants – Adjusters International

Todd Thomas was recently brought on as Adjusters International's new Director of Special Projects. He is also the Chief Consultant and Partner of Adjusters International's affiliate Sigma Consulting Corp. He has worked in the Management Consulting industry for 24 years. Currently, he works with Adjusters International's strategic partners to offer the highest quality Risk Management and Disaster Recovery consulting services possible. Thomas has worked in a management capacity on high-profile FEMA, insurance and construction projects since 1996. Thomas regularly serves as an expert witness and Special Master to courts in the area of finance & insurance.
Thomas' experience assisting public entities, non-profits and other organizations with risk management and insurance includes but is not limited to broker selection, insurance marketing, total cost of risk, risk identification, risk allocation, underwriting, claims, financial risk management, FEMA obtain & maintain compliance, risk analysis, risk management information systems and enterprise risk management.
Brianna Moyer, Digital Marketing Manager – Adjusters International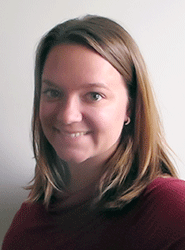 Brianna collaborates with AI's nationwide firms to create robust social media campaigns while assisting the firms with updates to their websites regarding new search engine optimization techniques, content, imagery, the latest technology, and more. She regularly reports to management and the firms while measuring the effectiveness of different strategies. Brianna monitors the latest trends in social media and web design to keep AI on the cutting edge. 
Ms. Moyer writes content for the websites which include blogs, web news stories, and landing pages. She has also been instrumental in creating Standard Operating Procedures for various AI initiatives such as trade shows and disaster plan protocols.
---